Our role in society
The world today faces an array of problems including climate change and other global environmental issues; energy, water and food resource issues; the poverty issue; and human rights issues. To address these issues, the role of private companies is increasing more than ever.
In times such as these, it is primarily important that we strengthen corporate governance by reviewing our compliance and risk management frameworks, and make dedicated efforts to achieve growth as a sound company capable of generating sustainable profit. We also have an extremely large responsibility to reinforce our ongoing initiatives toward solving social issues.
The SEGA SAMMY Group has always been an active participant in social initiatives aimed at the sound development of the next generation, through business operations and otherwise. In the process of implementing these social initiatives, we have also opened new possibilities in applying the power of entertainment to diverse fields. One such example is Smiletouch, an audiovisual aid that prepares* children for the medical treatment or test they are about to undergo. It is the worldfs first such tool and was developed by TMS ENTERTAINMENT, LTD., an animation production company that has launched this new business based on the library of animation titles it has produced to date. The company released Smiletouch on the market in September 2010, in response to strong wishes in the field of pediatrics to ease the worry and fear that many pediatric patients experience when they go in for a treatment or test by showing them animated cartoons during their medical visit. By enhancing the preparation process and helping children develop a positive attitude about their treatment, Smiletouch is expected to be instrumental in reducing burdens in the field of pediatric care.
*Preparation:
The act of providing children with proper medical knowledge in a gentle and easy-to-understand manner to ease the tension, worry, and other emotional distress arising from their condition, and to stimulate their bodyfs natural ability to cope with it.
Our aspiration to become a global presence
The SEGA SAMMY Group has recently acquired 100% ownership of four listed subsidiaries-Sammy Networks, Co., Ltd., SEGA TOYS CO., LTD., TMS ENTERTAINMENT, LTD., and TAIYO ELEC Co., Ltd. To keep well ahead of changes in the business environment that are expected to intensify in the future and achieve sustainable growth, we determined that our Groupfs management resources must be utilized in an even more mutually effective manner to further strengthen our position as a comprehensive entertainment company.
We will continue to leverage the synergy of our Group to become a stronger presence in the vast entertainment market in Japan and abroad. We will also harness our strengths to create fun-inspired content and deliver a diverse range of quality entertainment to all generations of people, so that we may bring smiles to everyonefs faces. At the same time, as a responsible leader in the entertainment industry, we will do all we can to promote further development of the industry.
Pride in being a member of the SEGA SAMMY Group
I believe our most valuable asset is our employees, and we in management are responsible for creating workplace environments that unleash their full potential. Our employees' sensitivity to the needs and interests of our stakeholders and their response to various requests and expectations with innovative ideas-and the accumulation thereof-help us win the trust of our stakeholders. In turn, our stakeholders' trust in us promotes further growth and higher motivation among our employees, and increases our corporate worth. To maintain this virtuous cycle, we will continue to encourage our employees to take an active part in personal exchanges within the Group, as well as in overseas training opportunities and volunteering activities. We will also create workplace environments conducive to employee growth, so that we may develop a workforce characterized by high sensitivity and a pioneering spirit to take on new challenges. Ultimately, we hope to be a group of companies in which all employees take pride in their work and in being a member of the SEGA SAMMY Group.
To be worthy of social confidence and expectations
The growth of the SEGA SAMMY Group is tied to the development of local communities and society. Today, that society as a whole is permeated by a sense of inertia following the Great East Japan Earthquake, and feelings of insecurity about the future are running high.
However, it is precisely because we are facing such difficult times that we wish more strongly than ever to deliver vitality to tomorrow. We hope that the laughter, joy, dreams, and inspiration we offer will contribute to the energy that people need to take the next step forward. I strongly believe this is our mission in the entertainment business, and the role society expects of us.
To be a company worthy of social confidence and future expectations, we will address these issues and more, one step at a time, and will work even harder to adhere to our social responsibility.
We ask for your continued support and cooperation as we endeavor to achieve our goal.
President and CEO and COO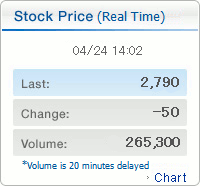 During early Oct,2016 or During late Oct,2016