With the aim of establishing an even moresolid position as a global comprehensive entertainmentcompany and maximizing corporate value by combining the management resources of two companies, SEGA and Sammy established SEGA SAMMY HOLDINGS INC. on October 1,2004, which marked the birth of the current SEGA SAMMY Group.
There is very little overlap between the respective business activities of SEGA and Sammy, with the merger between the two companies likely to have a complementary effect in the areas in which each operate.
Moreover, expected efficiency from effective allocation of managerial resources is sure to result in further expansion and stabilization of revenue.
We believe that the new force generated via the synergy between SEGA and Sammy will accelerate business growth and thereby enable us to deliver entertainment of the highest quality to more people around the world in the near future.
Both companies have solid foundations in high technology and product quality, and SEGA SAMMY Group will leverage these trademarks to create a wide range of cutting edge entertainment products. We intend to look beyond the obvious, innovating and creating entertainment that truly crosses cultural, and even generational boundaries.
The goal of this merger is not to add one and one to get two, it is to fuse resources and vision, and look to a future where the possibilities are truly endless. From pachislot, pachinko, location based amusement machines and consumer video game products to media content, network products, toys, merchandise and entertainment facilities, it is our challenge and mission as a comprehensive entertainment company to steadily nurture each and every one of these possibilities by combining the management resources of the Group.
Entertainment is about living dreams, it is about experiencing joy and culture. We hope to convey the pleasure and excitement inspired by entertainment to people all over the world. We intend to become one of the world's foremost global entertainment companies, and with SEGA SAMMY we have the synergies, collective vision and mutual objectives to achieve this goal.
Chairman and CEO (Representative Director) Hajime Satomi
President and COO (Representative Director) Haruki Satomi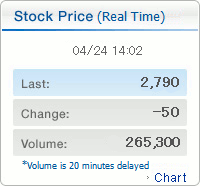 During early Sep,2017 or During late Sep,2017