Code of Conduct
Group CSR Charter
SEGA SAMMY Group takes the responsibility of realizing sound management at our company, and intends to create sustainable corporate value and contributes to the sustainable development of society through the establishment of strong relationships with all of our stakeholders.
Upon promotion of CSR activities, it is stipulated that all of our officers and employees agree to conduct themselves based on the "Mission of the SEGA SAMMY Group," the "CSR Charter of the SEGA SAMMY Group," the "SEGA SAMMY Group Code of Conduct" and the "SEGA SAMMY Group Management Policies and Guidelines," and we take measures to instill each of the above in the officers and employees.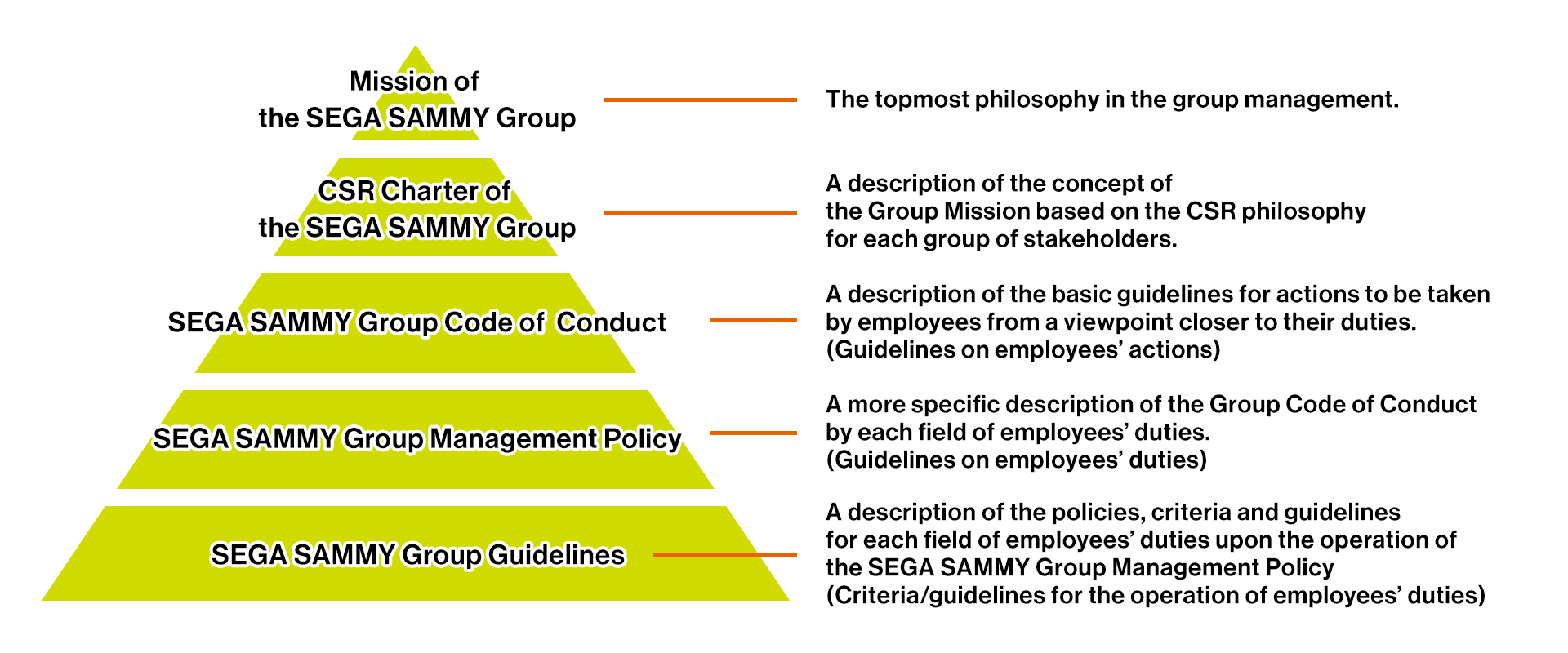 (Preamble)
We have established the following CSR Charter as we regard the fulfillment of corporate social responsibility (CSR) as one of our most important management objectives. As a responsible corporate citizen, we will comply with all relevant laws,regulations and social norms and further deepen the relationship with our stakeholders. Through these efforts, we believe we can provide sound management of our group and fulfill our responsibilities to society. This CSR Charter provides guidelines for our business operations.
We will continue to provide "moving experiences" to our customers in any age as their needs evolve.
We will maintain fair and impartial relationships with our suppliers and work together diligently as partners to create "moving experiences" continuously.
With Shareholders and Investors
We will view our business with a global perspective in our efforts to ensure sustained growth and to maximize enterprise value. Additionally, we will enhance management transparency and meet the expectations of our shareholders and society through fair and timely disclosure and appropriate returns in profits.
Our employees bring to us creativity and a spirit of challenge. They are our most cherished assets and the fuel to our growth.
We will cultivate a corporate culture which allows them to fully exploit their talents and enables us to grow together with our employees.
With a full awareness of the fact that we are, as a corporate citizen, a member of society, we will voluntarily and proactively put forward efforts to provide a social contribution through our business activities, etc., our support in the development of cultural activities including art and sport and the preservation of the global environment.