SEGA and the Environment
Sega impress people with a dream by game software and amusement machines of the amusement business. A global development system provides game software for an array of digital platforms around the world, from home video game machines to personal computers and cellular phones. Sega's amusement machine business has a long track record in Japan, and has revitalized the market by providing games that are amusement center essentials. In recent years, the amusement machine sales business has brought out such value-added offerings as advanced trading card games and multi-satellite networked video games. We also offer diverse game contents for other fields and operate amusement facilities.
SEGA recognizes that all members of society must help safeguard the environment. A research firm has reported that our businesses pose no significant environmental risks. We are nonetheless undertaking our own environmental initiatives, as our game software and amusement machines operate on electricity, an indirect source of carbon dioxide emissions. Our amusement machines must be durable and save energy because they operate for long periods after delivery. So, we are stepping up maintenance to prolong working lives while cutting energy consumption and recycling. Other initiatives include the SEGA-no-Mori forestation project, which we act positively.
To support Nagano Prefecture's Adopt-A-Forest Promotion Program, SEGA entered into a 10-year contract in April of 2008 with Minami Aikimura. Located in the prefecture's Minami Saku district, it contains roughly 3,633 hectares of private forest. The property is now named SEGA-no-Mori, and SEGA uses it to educate employees about the environment. Its subsidiary SEGA Logistics Services Co., Ltd. is also switching to pallets and wood blocks made from lumber produced in Nagano Prefecture during forest thinning for use in transport and cargo storage.
In addition to continuing efforts to curb carbon emissions , SEGA is also undertaking a forestation to absorb CO2 and using green power. It is also moving forward with carbon offset plans.
SEGA SAMMY Group is doing various activities besides this.
Please see the CSR report for details.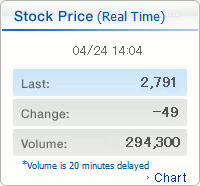 During early Feb,2018 or During late Feb,2018