Originating from Japan's entertainment industry, the SEGA SAMMY Group was established through the management integration of game publisher SEGA CORPORATION and pachislot and pachinko machine manufacturer Sammy Corporation in 2004. By tirelessly creating innovative products and services, the Group's Pachislot and Pachinko Machine Business and Entertainment Contents Business have brought numerous hit products to market. With our sights set on further growth, we are operating the Phoenix Seagaia Resort in Miyazaki Prefecture as well as South Korea's first integrated resort, PARADISE CITY. By developing the Resort Business, we aim to broaden our scope of business in the entertainment industry.
In doing so, we are developing a wide range of businesses and becoming a stable organization that does not rely on any one single business. Based on this foundation, each of our employees is using their creativity and taking on ambitious challenges in the spirit of "CREATION IS LIFE" and "Always Proactive, Always Pioneering." In this way, we will establish an unshakable position as a corporate group that consistently delivers leading-edge entertainment even in volatile conditions.
The SEGA SAMMY Group will strive to enrich and delight society through entertainment.
Hajime Satomi
Chairman and Group CEO (Representative Director)
The SEGA SAMMY Group, as an entertainment corporate group, will devote its energies continuously to its mission of creating moving experiences in any era.
When a new experience moves us greatly―when we are happy, sad, or surprised or when we feel empathy, try hard despite uncertainty, or overcome difficulties―it can put us in touch with a new side of ourselves. As a result, the world begins to look different. As well as inspiring individuals, moving experiences have an unfathomed capacity to put society and the future on a positive trajectory.
The SEGA SAMMY Group will continue discovering what people want and making concerted efforts to create entertainment that surpasses these expectations.
Being moved is an irreplaceable and uniquely human experience. We want to take the breath away of people around the globe by providing entirely novel moving experiences. In this way, we will energize people and society and spread joy.
We dedicate ourselves to fulfilling this role continuously.
Haruki Satomi
President and Group COO (Representative Director)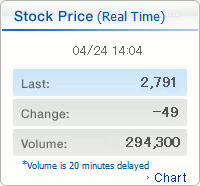 During early Jul,2018 or During late Jul,2018