For Individual Investors
SS Report

(From October 1, 2022 to March 31, 2023 / Date of Issue: July 5, 2023)
What is "SS Report (SEGA SAMMY Report)"?:
To increase accessibility of the information about SEGA SAMMY for individual investors and all other stakeholders, we have moved the content that we previously delivered as the Business Report to this page. Changing the name to "SS Report (SEGA SAMMY Report)", we will further enhance the contents. The feature articles will be continued on the "Interviews" page of this website.
Business Report from the CEO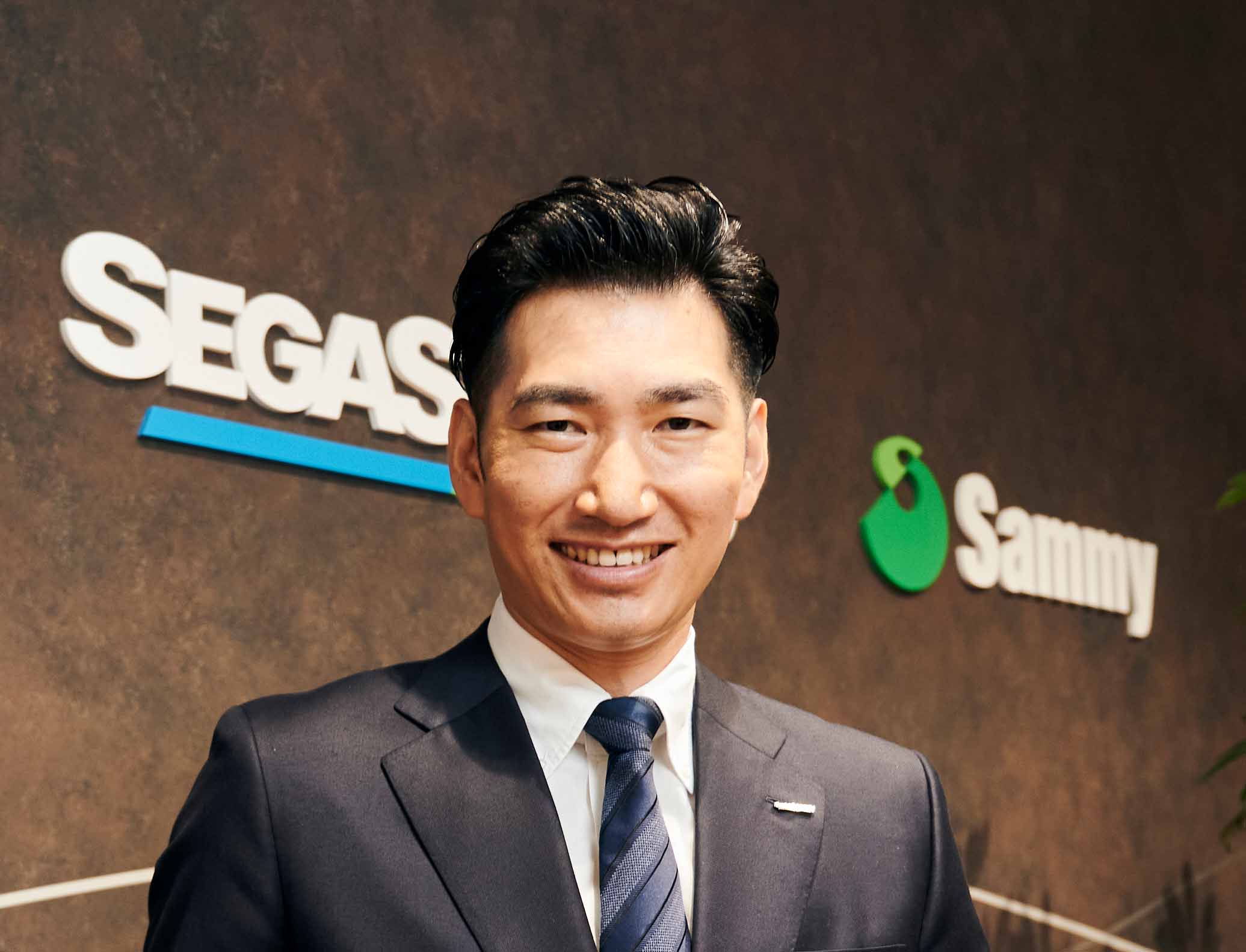 In the financial results of the Group for the fiscal year ended March 2023 (FY2023/3), the Entertainment Contents and Pachislot and Pachinko Machines businesses achieved increases in both sales and profit. In addition, losses in the Resort business have narrowed, and as a result we achieved significant increases in both sales and profit. Sales stood at 389.6 billion yen (320.9 billion yen in the same period last year) ordinary income was 49.4 billion yen (33.3 billion yen in the same period last year), and profit attributable to owners of parent was 45.9 billion yen (37.0 billion yen in the same period last year). We were able to exceed the 45.0 billion yen ordinary income target that was set for the final year of the medium-term plan that started in FY2022/3 in advance.
In the Consumer area of the Entertainment Contents business, "Sonic Frontiers," "Persona 5 Royal," and some other new titles and F2P performed well. Elsewhere, in the Amusement Machine area, sales in the prize category were strong. In the Pachislot and Pachinko Machines businesses, pachislot machines (No. 6.5 models) centering on the "Pachislot Kabaneri of the Iron Fortress" in particular performed strongly, in addition to which partial units of the titles for FY2024/3, including "Smart Pachislot Hokuto No Ken", are recorded in the FY2023/3 financial results due to pre-delivery, and as a result units sold for pachislot machines were 94,966 and pachinko machines were103,556 respectively. In the Resorts business too, earnings recovery proceeded as a result of strong performance mainly from individual customers. With the PHOENIX RESORT achieving profitability for the first time and other factors, sales were significantly higher than in the previous year and the loss margin shrank.
During FY2024/3, we will exert particular effort into the three goals in the Entertainment Contents business of further expansion of major IPs, securing stable earnings from existing mainstay titles, and creating new IP. With regard to new titles, we plan to release new titles, etc. for our mainstay IPs, such as "Sonic" and "Like a Dragon," and in line with the medium-term strategy, pursue global simultaneous launches and multi-platform support, and strengthen repeat sales. With regard to existing titles, "Project SEKAI COLORFUL STAGE! featuring Hatsune Miku" and other titles will perform strongly to contribute to stable earnings. Furthermore, as a challenge towards creating new IPs we are planning to launch "HYENAS" and etc. within this fiscal year. Although the rebound of the market following the worldwide consumer behavior changes accompanying the COVID-19 pandemic shows signs of settling down, expectations continue for vitalization and growth in the global gaming market. Carrying on with Sonic at the forefront, we will conduct the accelerated global branding of existing IPs, and pursue initiatives to expand opportunities for profit in the Entertainment Contents business.
In the Pachislot and Pachinko Machines business, starting with "Smart Pachislot Hokuto No Ken", we plan to aggressively launch smart pachislot including "Smart Pachislot BIOHAZARD: VENDETTA" in addition to the number 6.5 models, which are operating well. We are receiving strong demand for our products, including "Smart Pachislot Hokuto No Ken", but we need to continue to closely monitor the procurement of parts, and we will take appropriate measures accordingly while keeping an eye on our production capacity. Over the past year the contribution of "Pachislot Kabaneri of the Iron Fortress" and other pachislot machines were considerable, and the utilization of pachislot machines rose greatly. This upward trend is continuing, and we expect that the prospected number of units sold in the Pachislot and Pachinko market during FY2024/3 will buck the downward trend and start to increase. Furthermore, with the introduction of "Smart Pachislot Hokuto No Ken" we have won the 2nd largest total utilization share of Pachislot and Pachinko machines. Amid such a market situation and strong demand for machines, it is possible that we may attain the target in the medium-term plan of "No. 1 in total utilization share of Pachislot and Pachinko machines" during the early half of the fiscal year. We would like to make this a year not just in which we obtain the top share but keep it for as long as possible.
With regard to growth investment in the Consumer area, we announced the implementation of a TOB for Rovio, the developer of the Angry Birds and possessor of high development and operational capabilities of global mobile F2P games. Furthermore, we established a joint venture company with PAPYLESS Co., LTD., which offers "Renta!" to jointly launch a new vertical scrolling comic book label, "ZEToon". In these and other ways we are also pursuing the creation of new business and making good progress.
The medium-term plan launched in FY2022/3 has finally reached its last year. Now we have reached the consolidated targets of the plan, in FY2024/3 all our employees will join forces to aim for further growth. We will aim to be "constantly creating, forever captivating", and pursue initiatives towards the sustainable growth of our corporate value. We hope that we can continue to count on the ongoing support of each and every one of stakeholders.
(Billion yen)
FY2023/3 (Full Year)
Year on year
Net sales
389.6
+21.4%
Operating Income
46.7
+45.9%
Ordinary Income
49.4
+48.4%
Profit Attributable to
Owners of Parent
45.9
+24.1%
Results by Business Segment
(Billion yen)
FY2023/3 (Full Year)
Year on year
Net sales
Entertainment
282.8
+19.9%
Pachislot & Pachinko
94.2
+24.3%
Resort
11.5
+33.7%
Ordinary Income
Entertainment
41.1
+11.7%
Pachislot & Pachinko
20.7
+102.9%
Resort
-3.2
-
Entertainment

Both sales and profits increased YoY due to strong performance of some new titles in Full game and F2P in Consumer area and the prize category in Amusement Machine area.
Pachislot & Pachinko

Achieved significant increases in sales and profits YoY, especially due to pachislot machines (No. 6.5 models) performed strongly
Resort

Strong performance centered on individual customers, leading to a recovery in earnings
For those who would like to know more details
Latest Topics (Updated on July 19, 2023)
Pushing Forward to Expand the Sonic Brand Globally: Strengthening Sonic's Game & Media Mix (Updated on July 19, 2023)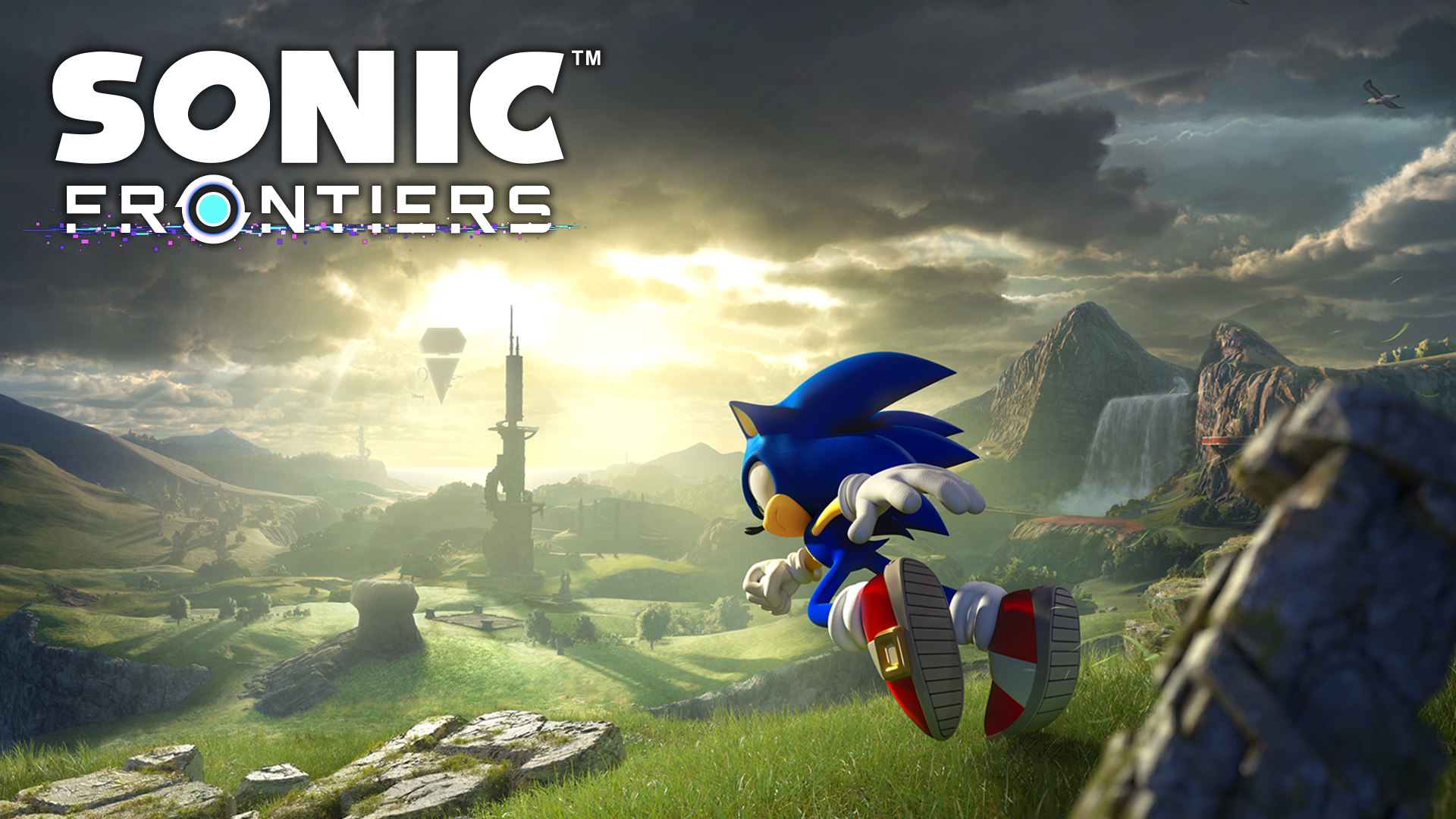 Within the Consumer area of our Entertainment Contents Business, where our target in medium-term plan is to "reinforce our earnings base by strengthening the global branding of our existing IPs", we will continue to promote the global branding of the Sonic series, which is one of SEGA's flagship IPs.
Sonic Frontiers, the first completely new Sonic game in nearly five years, was released simultaneously worldwide on multiple platforms in November 2022. The game has since  been well received by fans for providing players with the exhilarating ability to run freely across vast Open Zones at supersonic speeds, selling over 3.2 million units worldwide as of March 31, 2023. We plan to release a major free update including new gameplay chapters and additional playable characters and will be providing new content to ensure that the game remains just as exciting and engaging for users for many years to come, as well as further expand sales.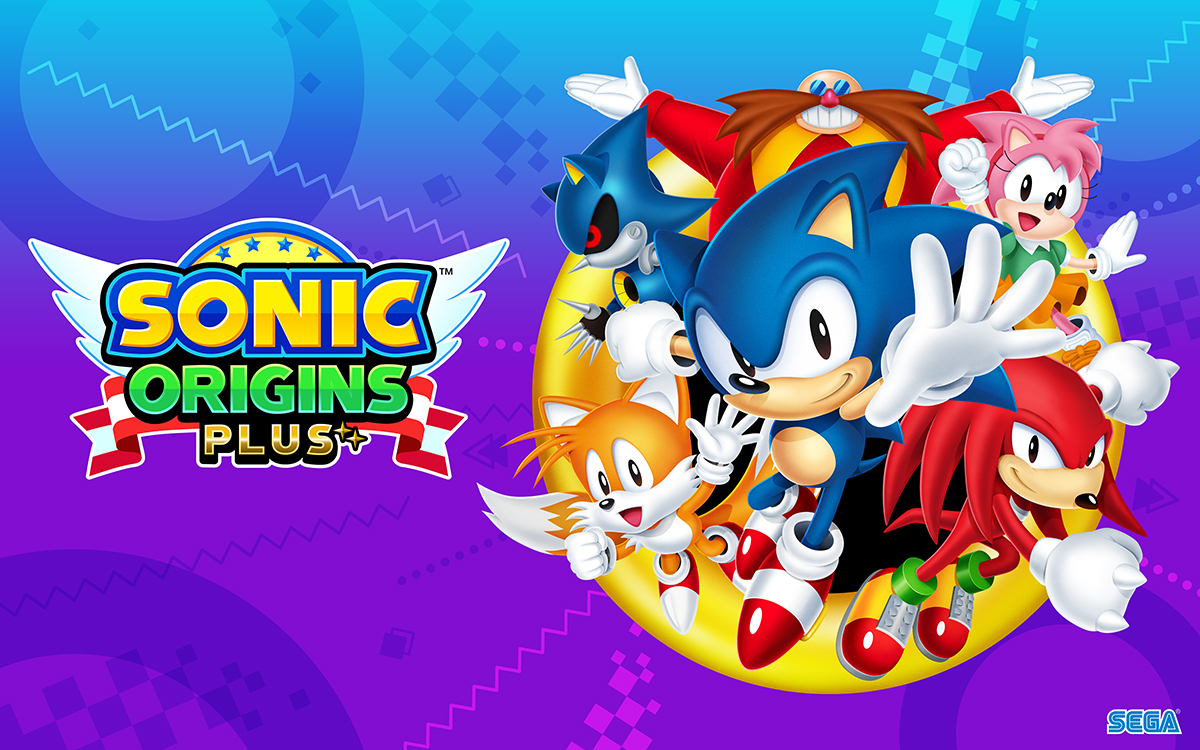 In June 2023, we also released Sonic Origins Plus, an expanded version of the high-speed 2D action game Sonic Origins (June 2022), which contains four digitally remastered classic Sonic titles.
Sonic Origins Plus offers players an action-packed, high-velocity gaming experience at speeds only Sonic can beat, featuring novel elements such as new playable characters, 12 Game Gear titles, and widescreen play; all while retaining the nostalgic retro charm of the original games.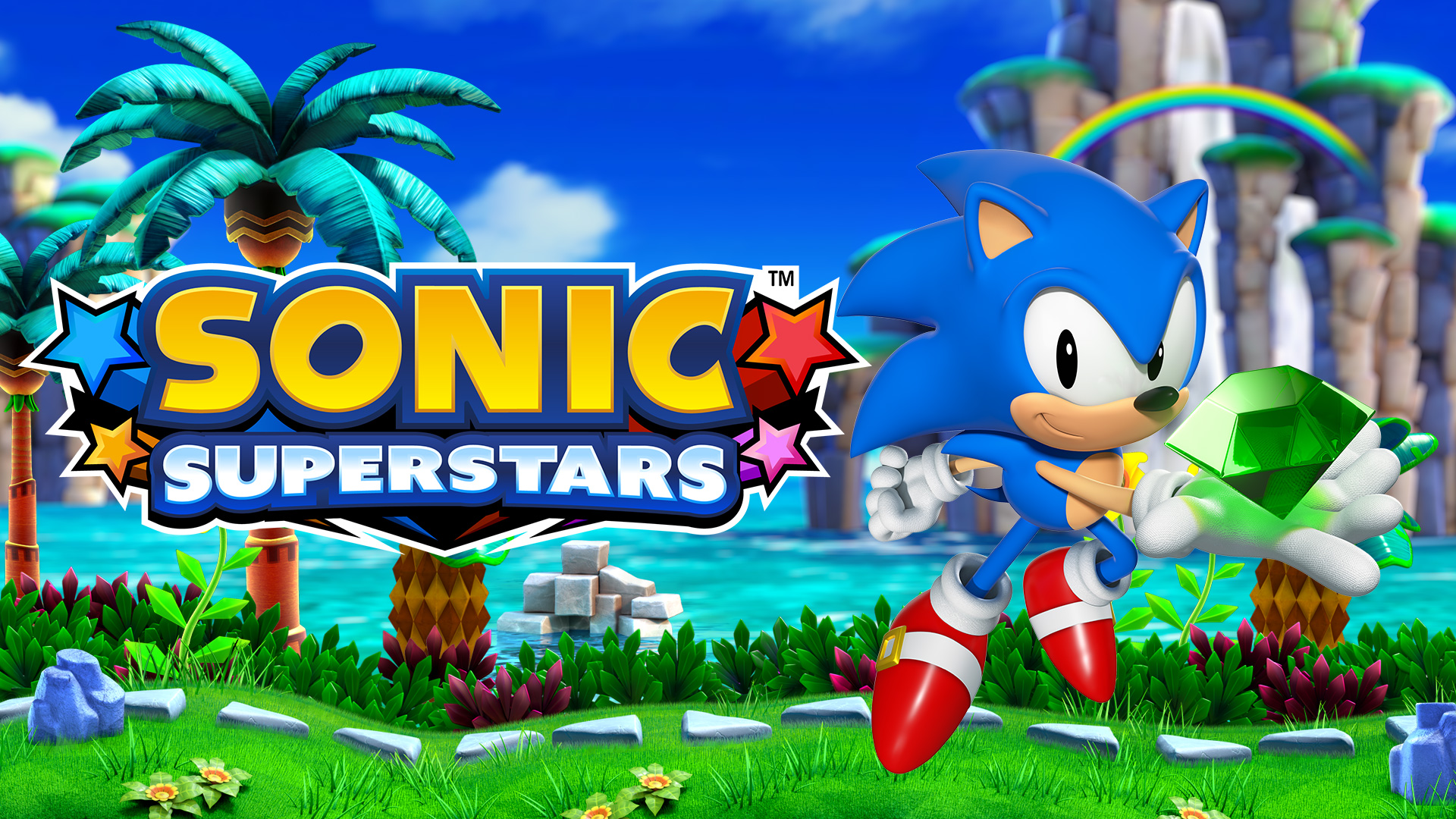 Furthermore, in the fall of 2023, Sonic Superstars will be released on multiple gaming platforms as an all-new take on the classic Sonic series. Sonic Superstars retains the thrilling high-speed side-scrolling action that players know and love, though this time reimagined with fully 3D graphics.
Players will not only be able to embark on new adventures playing as Sonic, Tails, Amy, and Knuckles in gorgeous, never-before-seen stages, but also play with up to three other players offline for the very first time in the series. This is a title that both existing Sonic fans and new players will adore, especially as the number of new fans grows thanks to the series' expanding media mix.
In terms of building upon the Sonic series' media mix, we have released a number of feature films, including Sonic the Hedgehog (2020) and its sequel, Sonic the Hedgehog 2 (2022), as well as the animated series Sonic Prime (2022), which is currently available on Netflix. At present, we are also working with Paramount Pictures to produce the third installment of the Sonic the Hedgehog film series, as well as developing an original TV series for Paramount+, Paramount's subscription-based streaming service.
To attract a new fan base and further increase recognition of the Sonic brand, we will continue to promote the global branding of the Sonic IP, which is beloved by fans of all ages around the world, by expanding upon our media mix in future including the production of films and TV series.
Sammy's Pachislot Machines Continue to Do Well (Updated on July 5, 2023)
In the Pachislot and Pachinko Machines Business where our target is to continue to expand its share of utilization by "creation of hits" and maintain stable earnings by "improvement of business efficiency" under the medium-term plan, sales of No. 6.5 model pachislot machines and smart pachislot machines that take advantage of revised regulations have been strong.
Released in July 2022, "Pachislot Kabaneri of the Iron Fortress," our first No. 6.5 model pachislot machine has achieved cumulative sales of approximately 35,000 units, which far exceeds our initial forecast, due to additional release of the "Biba panel" version from January 2023, etc. We have also released the "Mumei panel" as the third version since June 2023.
In addition, "Smart Pachislot Hokuto No Ken," our first smart pachislot machine, was introduced in April 2023 and has already sold approximately 40,000 units as of April 28, 2023. It also has marked the highest utilization start out of the past "Hokuto" series. The "Ken-oh panel" version is scheduled to be released as the second version sequentially from August 2023.
We will also release our second smart pachislot machine, "Smart Pachislot BIOHAZARD:VENDETTA" after July 2023.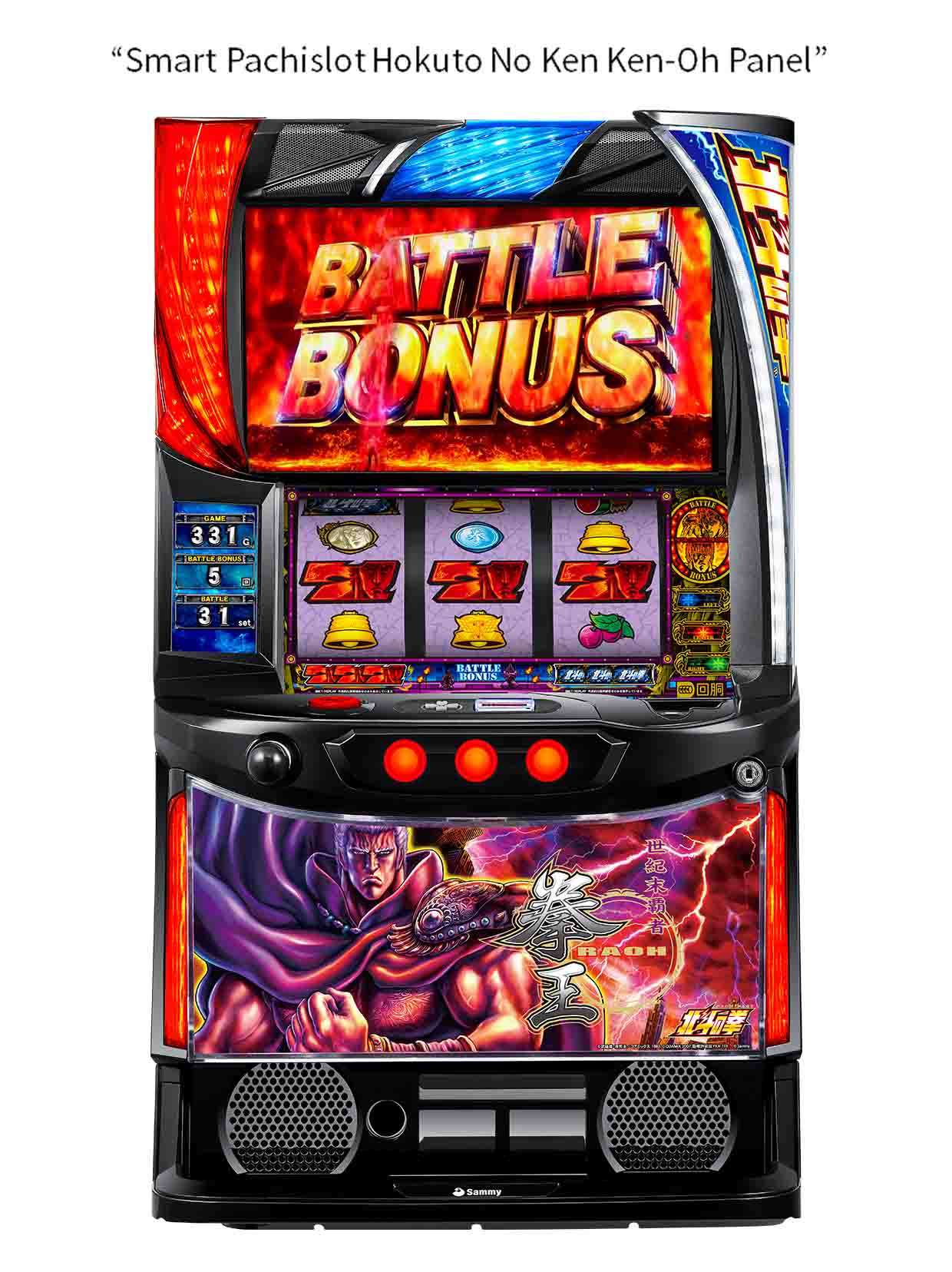 Based on the concept of reviving the original model, "Smart Pachislot Hokuto No Ken" reproduces the visual effects and gameplay of the original "Pachislot Hokuto No Ken" which was released at the era of No.4 model with the latest specifications.
This machine inherits the "Battle Bonus" system that was popular in the original model, and adds new elements to the Battle Bonus, such as "Rei Kyoutou/Toki Kyoutou Lottery" and "Muso Tensei Chance," to bring an even greater sense of excitement to users. The continuation rate of the Battle Bonus, which was a maximum of 88% in the original model, has been raised to 94% in the "Muso Tensei Battle," the strongest Battle Bonus of the new machine.
In terms of visual effects, the new machine inherits the nostalgic "Raoh Tensei" scene from the original model, and also features the production customization function, which allows players to play the machine with the production frequency of the original model by simply touching the sub-LCD.
We are actively promoting the machine via TV commercials and other measures to attract new users as well as existing users, and to encourage the return of dormant users who used to play the original model.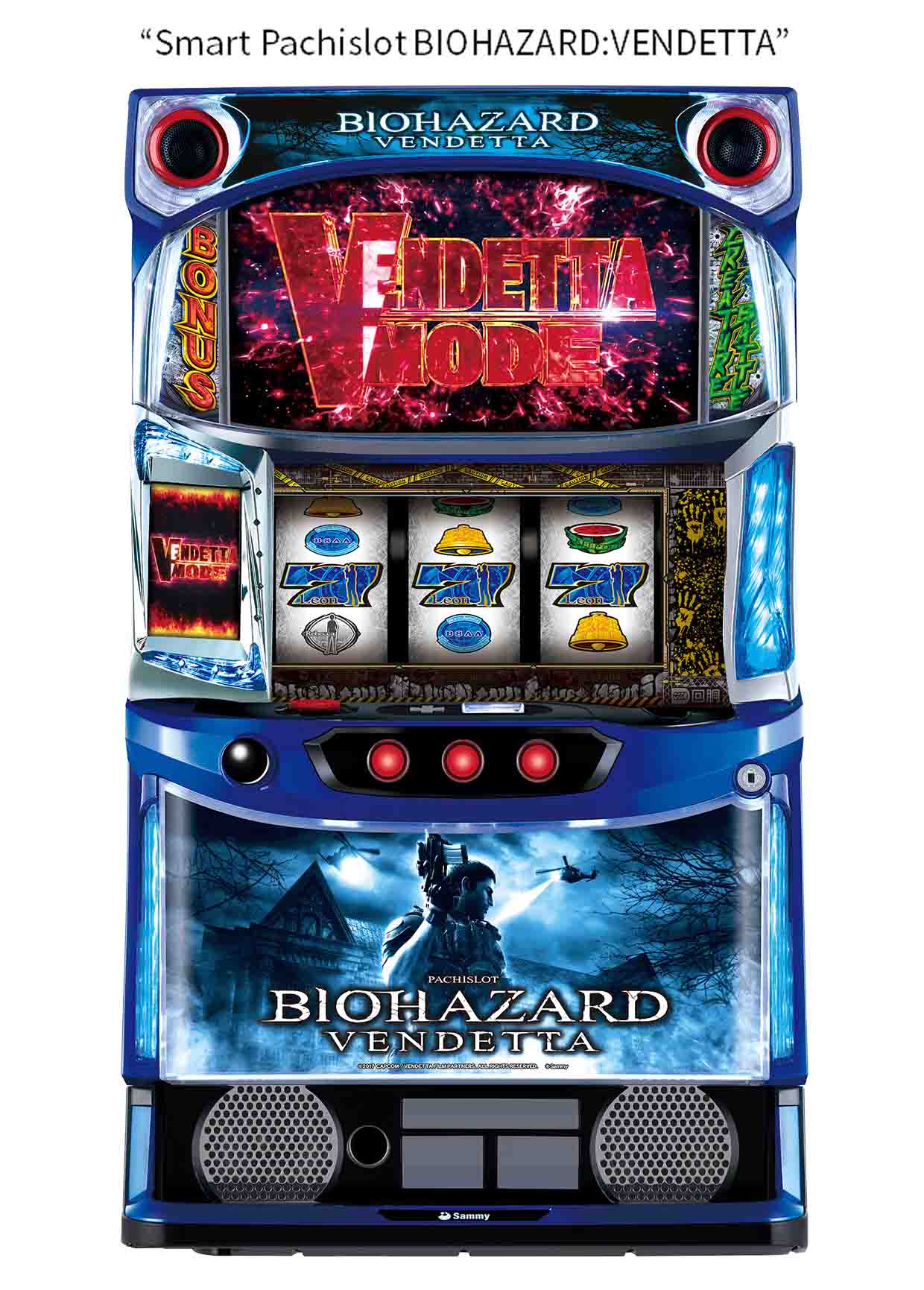 "Smart Pachislot BIOHAZARD:VENDETTA" features the traditional gameplay of aiming for AT* by winning a rare prize or completing the prescribed number of games during normal play. During AT, users can experience a new sense of excitement due to the payout performance by a loop of additional AT games and bonuses.
When entering the "Premium Vendetta Mode," the expected payout increases to around 3,600 medals. Furthermore, when the AT reaches its ending, there is a more than 50% chance of re-entering this mode.
In addition to the continued solid performance of the No. 6.5 machines, we aim to further expand the share of utilization by aggressively introducing smart pachislot machines.
*Abbreviation for "assist time." A situation in which players are more likely to win medals as the order of pressing buttons is navigated by an LCD or voice to win a small payout such as bells, etc.
Business Reports in and before FY2021/3
can be seen from here.