For Individual Investors
About SEGA SAMMY

SEGA SAMMY Group Mission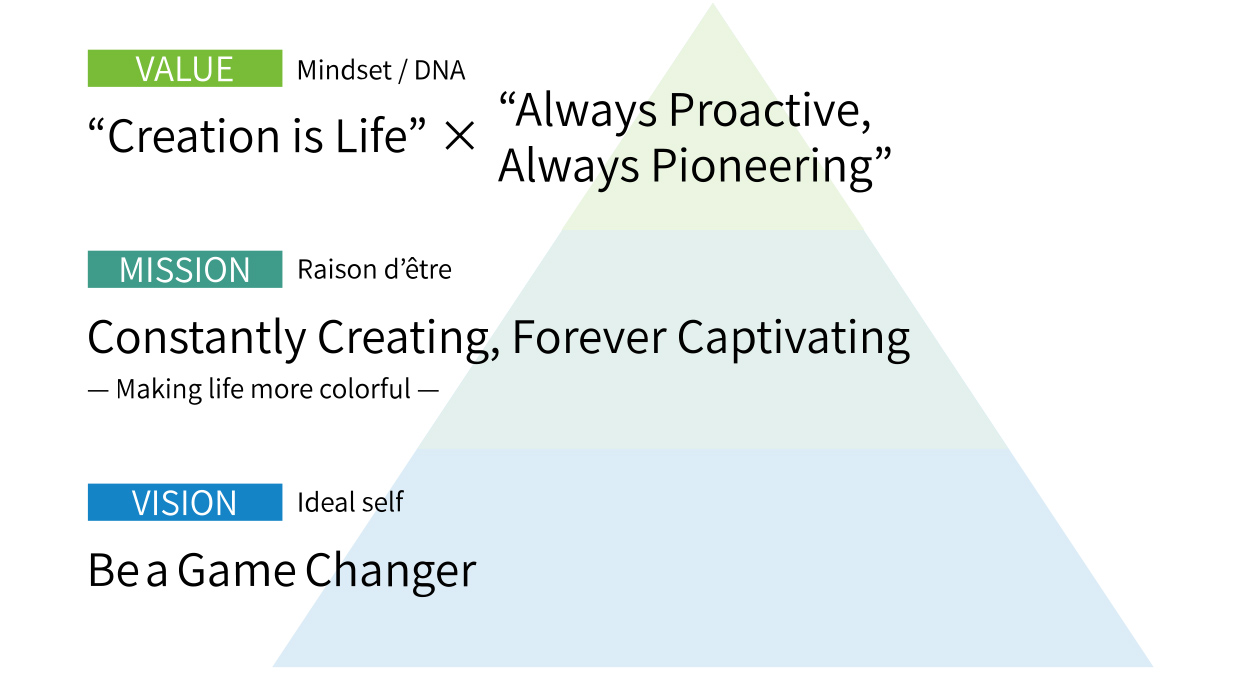 SEGA SAMMY has established a Mission Pyramid, shared across the Group, to guide the business activities of SEGA and SAMMY and other group companies. The Mission Pyramid consists of Value (Mindset/DNA), Mission (Raison d'être), and Vision (Ideal self). The Group is striving to ensure that all its employees clearly understand the Mission Pyramid and work together to enhance corporate value.
Message from Top
President and Group CEO, Representative Director
Haruki Satomi
Vision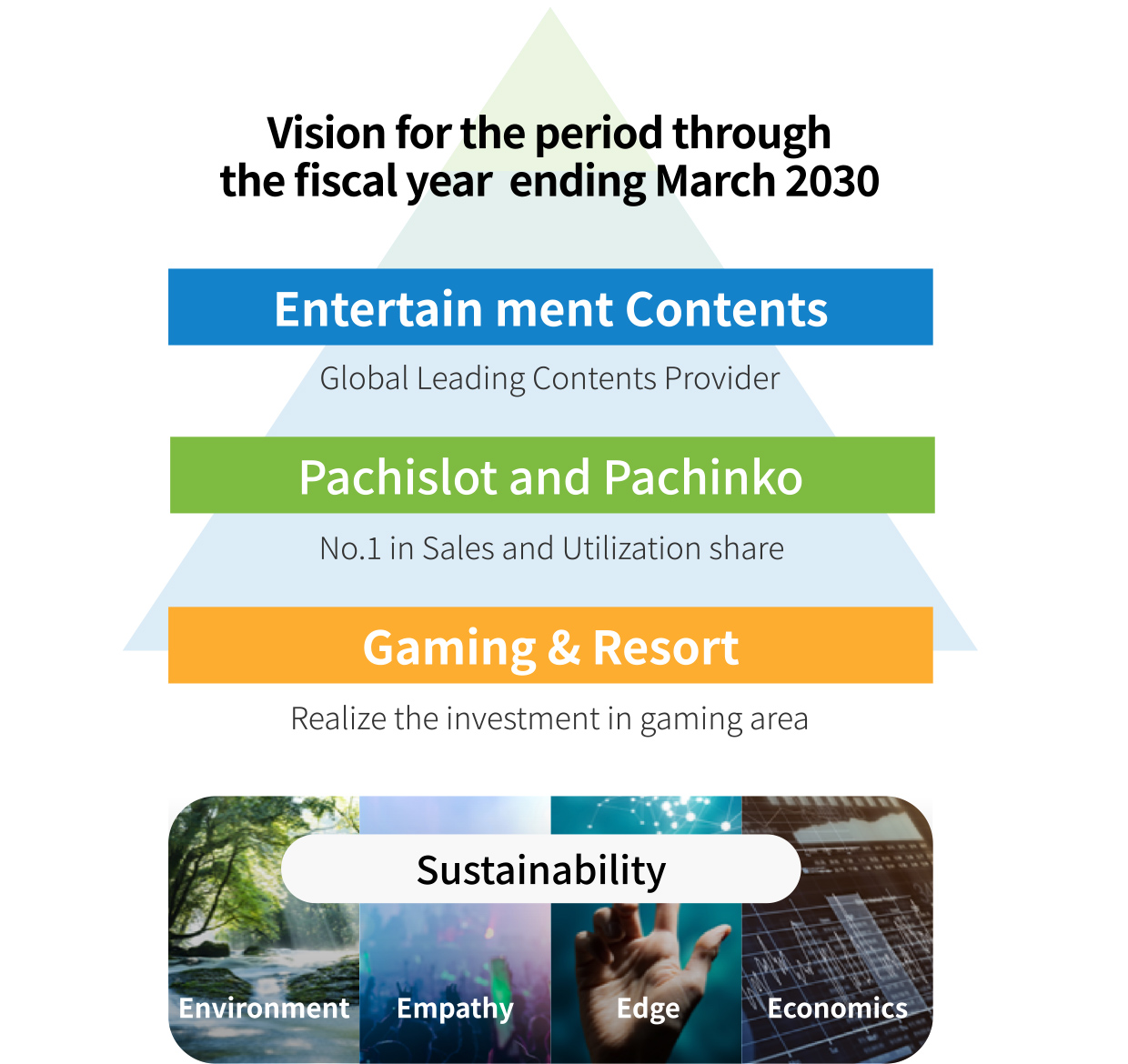 SEGA SAMMY Group has established a new long-term vision which set the fiscal year ending March 2030 as a goal. We set "Beyond the Status Quo -Breaking the Current Situation and Becoming a Sustainable Company-" as a goal of medium-term plan for the first three years of that pathway and while push forward the key strategies for each business, we also proceed the shift to the management system based on capital efficiency. Also, we have conducted a fundamental review of our financial strategy along with them and revised our shareholder return policy.
Sustainability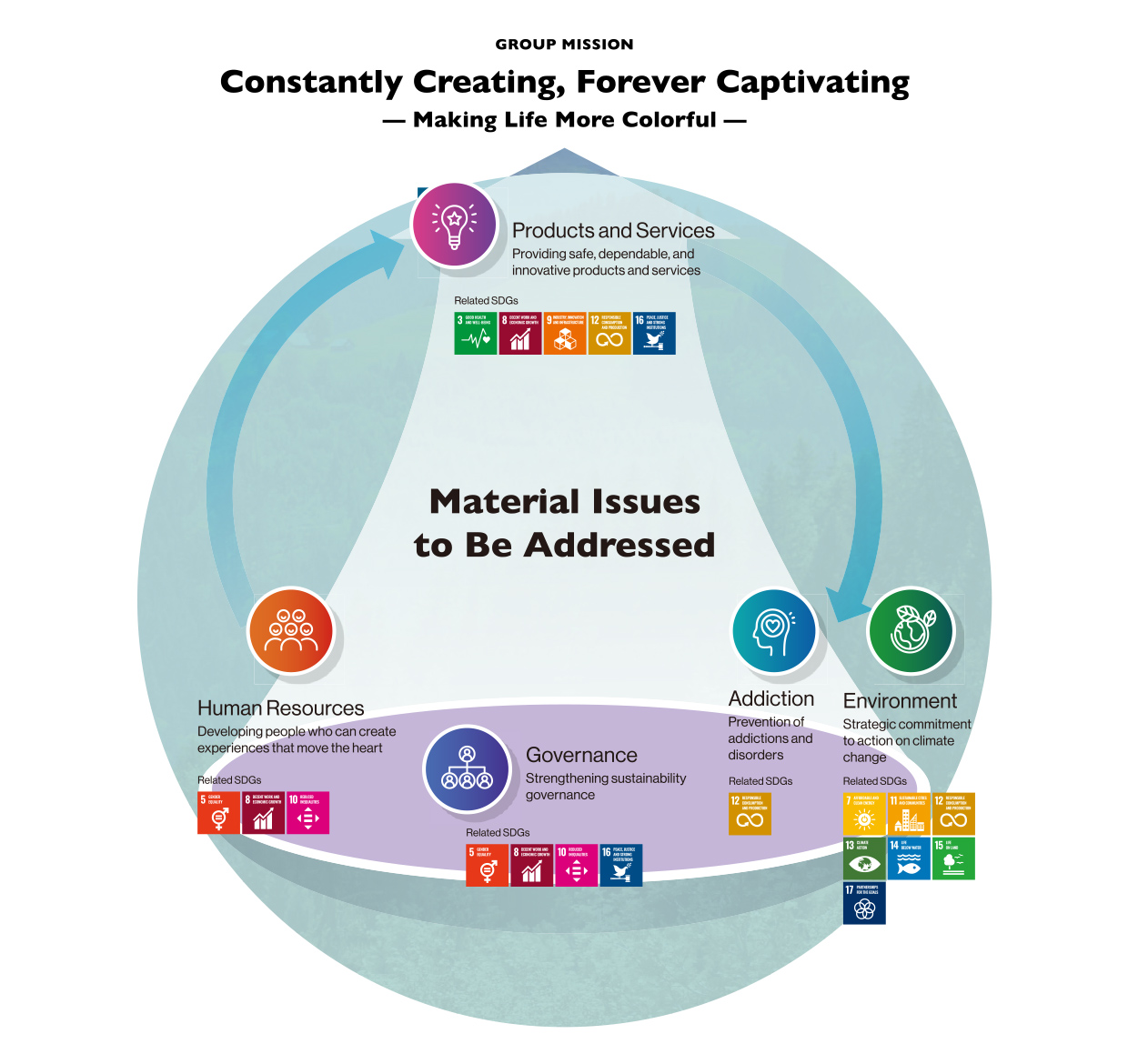 SEGA SAMMY Group defines 5 material issues to be addressed, which are the human resources, products and services, environment, addiction, and governance in order to reaffirm the value of the experiences that move the heart the Group provides through each of its business areas, and to guide our efforts to realize sustainable solutions to social issues and enhance corporate value.
For those who would like to know more details
History of SEGA SAMMY
The SEGA SAMMY Group was formed in October 2004 through the management integration of SEGA, a creator of wellknown innovative products, and Sammy, a developer of various industry-first products. Since the management integration, SEGA SAMMY Group companies have continued to offer experiences that move the heart for consumers and create new experiences through the full-scale entry into the Resort Business in 2012 and other initiatives.
SEGA

1960

Established
1988

Mega Drive

Launched the "Mega Drive" home video game console powered by a high-performance 16-bit CPU

1993

Virtua Fighter

Started rolling out "Virtua Fighter", a world first 3D computer graphics (CG) fighting game©SEGA

1998

Dreamcast

Launched "Dreamcast", the industry's first home video console with internet connectivity©SEGA
SAMMY

1975Established
1989

ALADDIN

Launched "ALADDIN", the industry's first single-bonus hitter pachislot machine©Sammy

2001

Beast King

Launched "Beast King", a pachislot machine with assist time (AT)©Sammy

2003

Pachislot Hokuto No Ken

Launched "Pachislot Hokuto No Ken", which set an unprecedented sales record unbeaten to this day©Buronson & Tetsuo Hara/NSP 1983   ©Sammy
2004Management Integration
2005

Ryu ga Gotoku

Launched "Ryu ga Gotoku", the first title in a blockbuster series of home video games©SEGA

2008

Pachinko CR Hokuto No Ken

Launched "Pachinko CR Hokuto No Ken", the Company's best-selling pachinko machine by number of units©Buronson & Tetsuo Hara/NSP 1983, ©NSP2007, Approved No. SAE-307  ©Sammy

2009

Pachislot Psalms of Planets Eureka Seven

Launched Pachislot Psalms of Planets Eureka Seven, which introduced new gameplay characteristics into No. 5 models©2005 BONES/Project EUREKA
©Sammy ©BNEI

2012

PHANTASY STAR ONLINE 2

Started distribution of PC online RPG "PHANTASY STAR ONLINE 2"©SEGA

Phoenix Seagaia Resort

Made PHOENIX RESORT CO., LTD., a wholly owned subsidiary©Phoenix Resort

2016

Persona 5

Launched home video console game Persona 5©ATLUS ©SEGA All rights reserved.

2017

PARADISE CITY

Opened PARADISE CITY, South Korea's first integrated resort©PARADISE SEGASAMMY Co., Ltd. All rights reserved.

2020

Sonic The Hedgehog

Released the Sonic the Hedgehog movie©2020 PARAMOUNT PICTURES AND SEGA OF AMERICA, INC. ALL RIGHTS RESERVED.

Project SEKAI COLORFUL STAGE! feat. Hatsune Miku

Launched Project SEKAI COLORFUL STAGE! feat. Hatsune Miku

2022

Sonic the Hedgehog 2

Sonic the Hedgehog 2 became a worldwide hit.©2022 PARAMOUNT PICTURES CORPORATION AND SEGA OF AMERICA, INC