Sustainability at the SEGA SAMMY Group
Materiality Identification Process
SEGA SAMMY group started identifying issues for materiality identification in 2016 and identified materiality in 2019 for the first time. Since then, we have reviewed materiality periodically, considering stakeholders' opinions and responses to the social landscape. 
SEGA SAMMY Group aims to meet social needs, achieve a sustainable society, and continually improve corporate value based on "Constantly Creating, Forever Captivating" as our mission. To make this aim real, we focus on the value created by our core business, identifying materiality related to our business and trying to penetrate and practice it into our entire group of companies. 
Step 1 : Issues identification and materiality evaluation
Between 2016 and 2020, SEGA SAMMY Holdings received the "Sustainable Management Diagnosis" conducted by the Committee for the Promotion of Management Diagnosis to visualize strengths and issues related to sustainability.
In 2019, our group's corporate board meeting formulated management policies for CSR and SDGs and set three important themes to be addressed. They are "Improvement of job satisfaction and diversity, and elimination of inequity", "taking action on addiction", and "addressing the social issue of super-declining birthrate and aging society."
In April 2019, the assessment committee organized by professional members of management, human rights, environment, and more, along with our CSR, SDGs Promotion Department manager (current Sustainability Department) organized a stakeholder dialog. We engaged in many discussions to identify our group's unique materiality on the comprehensive perspective by giving feedback from meetings with investors, stockholders, and employees, where opinions and requests were raised, to the Board of Directors meeting.
Step 2 : Issues identification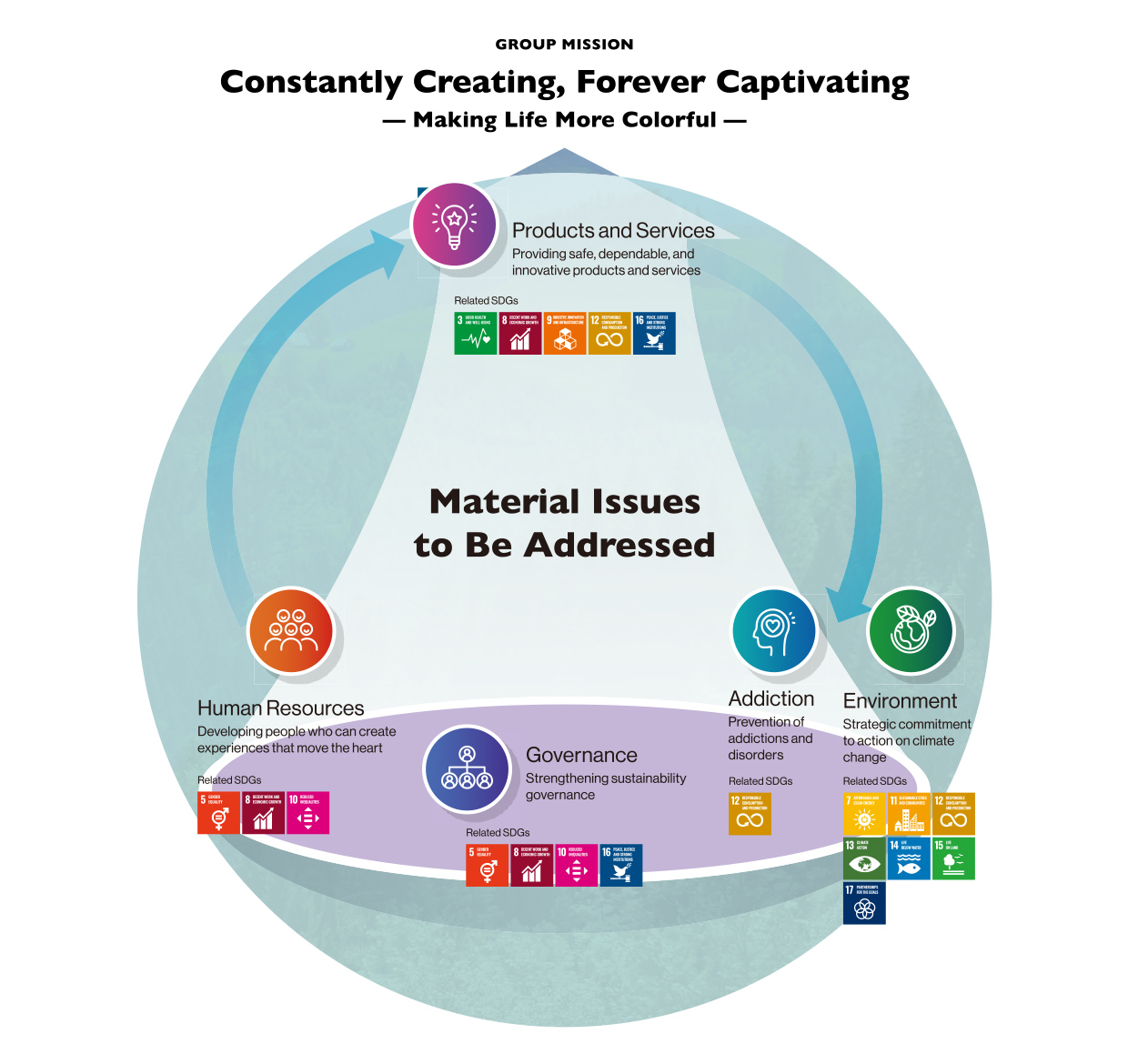 In 2019, we set four issues, including the three important themes to be addressed written above, and added "Environmental responses" as our group's materiality.
In 2020, we evaluated the set materiality themes to ensure their relevance to our businesses. We then redefined the materiality framework by referencing the "SASB Standards."
The current five materiality themes were identified by focusing on the value created by our core businesses to meet social needs, achieve a sustainable society, and continuously enhance corporate value, all aligned with our group mission of "Constantly Creating, Forever Captivating."
Step 3 : Setting and approval of materiality
In April 2022, our Group Sustainability Session approved the current materiality content and disclosure of the materiality, and the Group Management Strategies Committee (now the Group Management Committee) subsequently held discussions. Following these discussions, the Board of Directors granted its approval.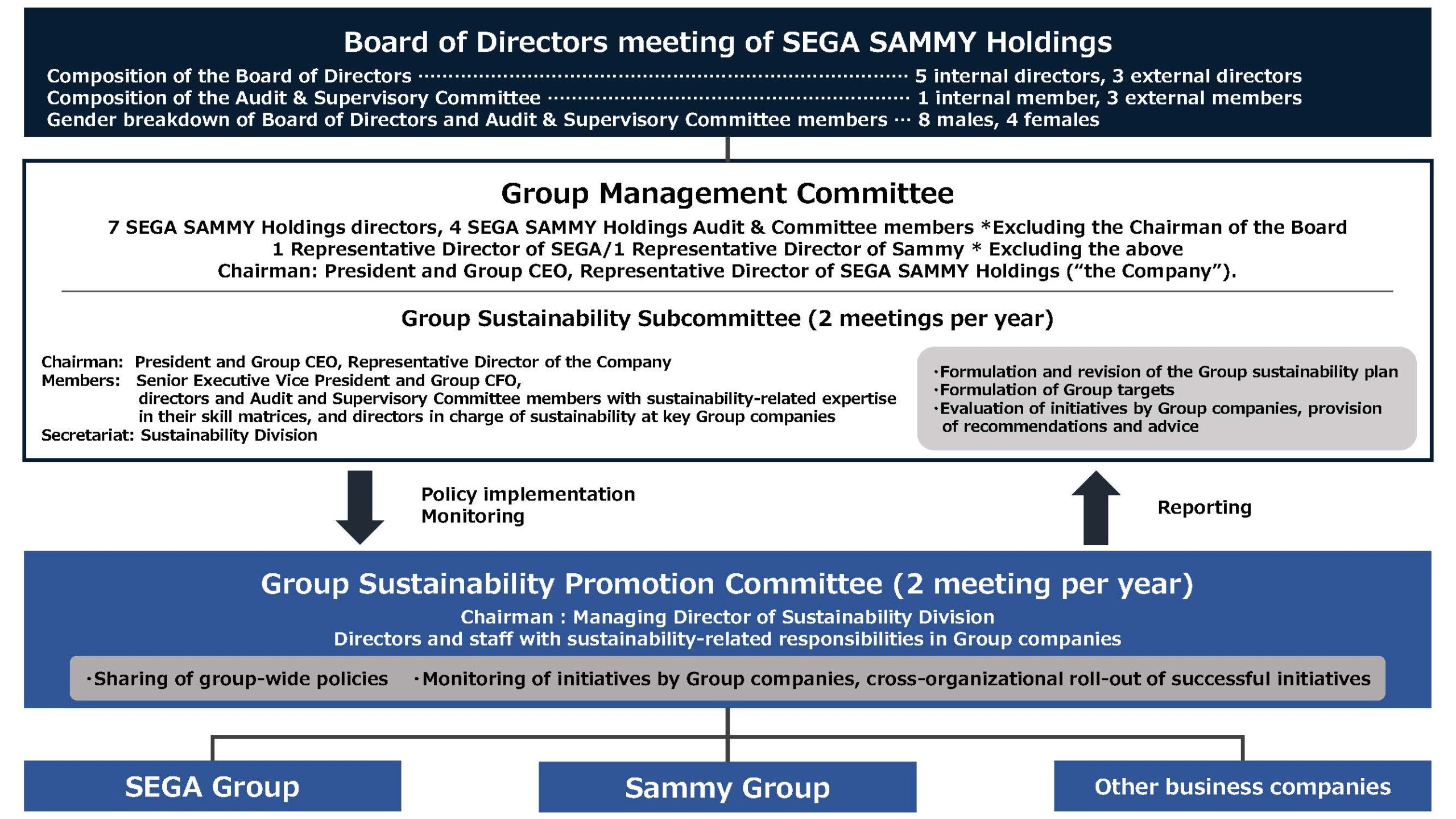 Step 4 : Progress check and reviewing materiality
Group companies establish their actual action themes, numerical targets, and deadlines for each materiality. They created a flow for periodically monitoring progress by setting medium-term goals based on the materiality themes and holding yearly Group Sustainability Session and Group Sustainability Promoting Meeting to report and assess their progress.
We periodically report the entire group's progress in the financial results briefings and integrated reports to our stakeholders, and also share this information on our internal and external websites.
Opinions and requests from our stakeholders are scrutinized in the Group Sustainability Session and then reviewed and updated to the optimized form after identifying issues by taking into account the importance of social problems and management issues in the context of the social condition, international trends, and external environment, all through ongoing communication with our stakeholders.