Corporate governance is central to our operations, and we continue to improve our capabilities to optimize enterprise value.
Basic Stance
Corporate governance is central to our corporate conduct,and we continue to improve our capabilities to optimize enterprise value. Our corporate governance policy is to enhance efficiency, maintain sound management,and operate more transparently. This policy is the basis for addressing such important management issues as choosing board nominees, deciding compensation for directors and corporate auditors, and overseeing management.
Enhancing Efficiency
The Group will maximize corporate value by establishing speedy and proper decision-making processes and by making management more efficient. Shareholders and other stakeholders will benefit from these efforts.
Ensuring Organizational Soundness
We will maximize corporate value in volatile business conditions by identifying and managing diverse risks. We will also reinforce compliance systems to adhere strictly to social norms and legal requirements.
Enhancing Transparency
In light of the growing importance of corporate disclosure, we will fulfill our obligation to explain corporate actions to shareholders and other stakeholders and will undertake proactive investor relations.
Corporate Governance System
We adopted a corporate auditor system so directors could leverage their expertise in the industry, market trends, products, merchandise, and services to make quick and optimal decisions in a rapidly changing management environment. We appointed outside directors and strengthened our executive officer and internal audit systems, reinforcing corporate governance in terms of execution and oversight.
Board and Committee Functions
The eight members of the Board of Directors convene once monthly and as required. This and other internal organizations make decisions and report on certain significant management issues for Group companies. The Board of Corporate Auditors comprises four members, meeting once monthly and as required to discuss and analyze specific issues. Other key bodies include the Group Management Liaison Committee and the Group Audit Liaison Committee.
Corporate Governance System
Internal Control Systems
We launched an internal controls project in March 2006 to bolster corporate governance by establishing and improving an assessment and monitoring framework for financial reporting under Japan´s Financial Instruments and Exchange Law. We thereby ensured the reliability of our financial reports and concluded that internal controls worked effectively for Group reports in fiscal year ended 2018. We will ensure that our reports remain reliable and will maintain and enhance our internal control systems so they remain efficient and sound.
Our Stance and Status to the Corporate Governance Code
PDF documents can be read with Adobe Readersoftware.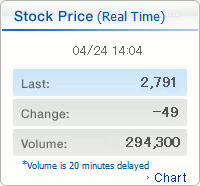 During early Jul,2018 or During late Jul,2018